You now have experienced building a wind turbine in your classroom. Let's see if you can build one from common things you find around the house and/or things that would otherwise be TRASH!!!
Project steps::
First, decide what type of turbine you'd like to build

A common horizontal axis turbine: shown below: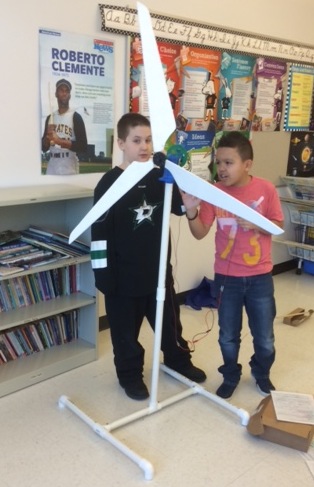 Or a vertical axis turbine: Shown below:
Tips:
Vertical axis turbines require less parts and tend to be easier to build.
Horizontal axis turbines can be built from a variety of different materials.
Bigger is NOT always better.
Once you have decided which turbine your group wants to build, design your turbine and think about the parts you will use.
Use a computer or simply draw your design on a piece of paper. Label with the type of turbine (vertical or horizontal), names of group members and be sure to give your turbine a FUN name!
Make a list of materials you will need... DO NOT BUY ANYTHING! William could not...

Some suggestions of useful materials:

Legos
Water bottles
dowels (round wooden poles)
duct tape
cereal boxes & cardboard
water & soda bottles
cans
toilet paper / paper towel roles
tinker toys
old lamps (they have sturdy bases and a prebuilt tower)
Rollerblades & skateboards have a bearing in the wheels that allow for great spinning. If you have an old pair, have a parent help you find the bearing in the wheel.
Old plate as a base, or a piece of wood.
Plastic or paper plates can be cut into a blades

Start finding the materials you will use. Be sure to construct a strong base so your turbine will not fall over when the wind hits it. Each person in your group should be assigned to find some of the pieces you need.
Do a practice build with your team. Then Change is Simple will be back to help and watch your turbines be built in your classroom. We will bring extra parts to help make your turbine run smoothly.
Be creative and have fun. Using problem solving skills will surely make your turbine awesome!

Here are some videos that will give you some great ideas.
NEVER use tools without consulting adults.